| | | |
| --- | --- | --- |
| | Raw Cashew Goji Berry Brittle | |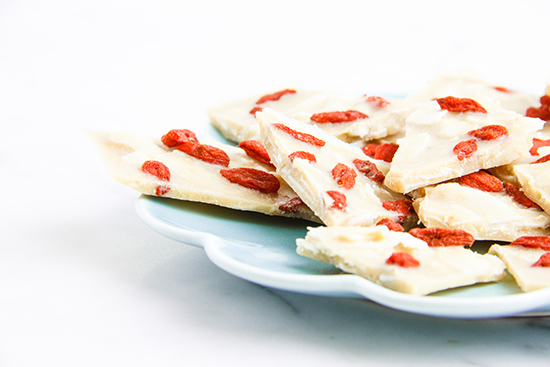 Wahoooo! I've finally smashed the last of my exams out for the year. I am exhausted! Good exhausted though – I feel really happy with how they all went. Now, for the first time in over five years, I am actually going on a proper holiday, to an island, to lie on the beach. No internet, no phones, no computer, no ipad, no nothing – just me, a coconut and the sea breeze.
So. Excited.
So I leave you with this – a little quickie I've made a few times now – nothing fancy but it tastes fantastic and is also sugar free. It has been so hot lately that the coconut oil and cashew butter have conveniently been in a liquid state – I'm not too sure how successfully you would be able to make this in a colder climate without actually applying some significant heat to the cashew butter in order to melt it. So it is a summer time treat.
By the way – if you don't know this already – cashews and goji berries are a match made in heaven.
See you all in a week! Can't wait to come back creatively charged to share some live food awesomeness with you again,
Lx
Raw Cashew Goji Brittle
½ cup coconut flakes/chips
¼ cup + 2 tablespoons coconut oil
¼ cup raw cashew butter
Stevia, to taste (I have recently been using the Natvia brand, a couple of sachets seemed to do the trick for this)
¼ teaspoon coarse sea salt
Handful of goji berries to sprinkle
Put the cashew butter in a metal bowl, then pop it in a bigger bowl filled with really hot water, let the butter liquefy a little

Repeat with the coconut oil

Combine the coconut oil, cashew butter, salt and stevia in the blender and blitz

Pour into a bowl and stir in the coconut flakes

Pour into the bottom of a square cake tin, lined with baking paper

Sprinkle goji berries over the top

Let set in the freezer

Break into brittle